I finished off my knit cord thing and decided to try stuffing some wooden beads down in there, separating them with knots, and then figured it looks sort of like my knit snake ate something....interesting. I am going to work with some smaller needles on the same idea and include other smaller things inside. Wait and see!
It is pretty chunky, and with the right outfit, I think I would love it for a while and then tire of it....though I need to keep going with this idea to see it through some kinks and variations before passing permanent judgment.
If I come to one that I like well enough, I might try my hand at posting a tutorial. Anyone interested?
Linking up at: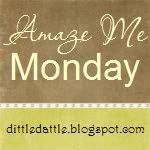 Also, today, my family scammed to plan a surprise party for me to celebrate my birthday....I was totally surprised although in retrospect I should have seen it coming. Still, it was a great day with friends and family. I was so involved in the company that I didn't take a single picture! Strange!
Thanks, peeps!