I ran across a couple of great yarning blogs this week....check these out:
Bugaboo, Mini, Mr and Me
and
Mandipity
I have only been in blogland for 84 days, but these two are some of the most creative blogs I have run into so far! I wish that I could follow some blogs, and then have another list in my dashboard for my favorites so I be sure to hang on every word!
I linked up another idea to this party, but I was so impressed by the ideas posted that I decided to put another link button here just in case able minded yarn lovers from all over just want to link from this post instead of searching my history for the post.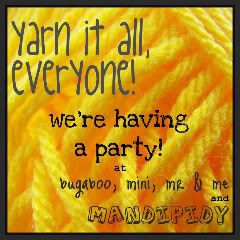 Mandipity had some cool crochet circle earrings hot glued to posts, and I just had to make a pair with some added BLING! Check out her idea
HERE
(there is a tutorial there too!). I quick wrapped up some ear wires and added sterling jump rings with size 8 pearl seed beads.....I think I will need to wear them with my black and pearl seed bead Kumihimo braided necklace.....WOOO! Small craft again today as it was busy, but doesn't the super cuteness factor in? It should!
I also went to the MN zoo for a few hours today with friends....our kids pose with the beautiful metal turtle there in the Tropics area. What a great way to spend a not-nearly-spring-yet-in-Minnesota-type-day! This picture makes me wish I had two sets of twins (and they were already past the diaper stage, of course)!!!!!