Today, we went to the baby farm animal exhibit at the MN Zoo....totally fun! I love to see babies of all sorts. Here are a couple pics of my kids enjoying life!
Linked up at these MONDAY parties!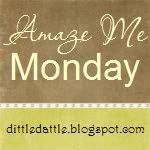 I worked on a four page layout today to highlight a trip we take every two years with extended family to the Black Hills of South Dakota. We always do the same few favorite hikes, we generally go with the same group of family, and the scenery, while beautiful, rarely changes (the huge fire that nearly took out Deadwood several years back is the exception to that). Yet, we come back every year with hundreds of photos, and I really want to highlight the people while still giving a reference to the surroundings. I had some big open-up style scrapbook pages to fill, and thought these would be the perfect pictures to use! Picture these four pages in this order, left to right.
Along the bottom of all four pages, I cut slivers from pictures to close in on the people and the action, but I also cut slivers of the beautiful rocks, trees, sky, and fabulous views from around the area. It is quite lovely! There are a TON of pictures on just these four pages. I didn't really leave anything out, and yet, I didn't show so much that I couldn't really be interested as a viewer. I have one more set of open-up pages that I will use for this same trip, but I will incorporate the pictures from the Wildlife Loop in Custer State Park....We have a LOT of wildlife pictures this time around, and my kids took many of the pictures....you can imagine what that looks like in both quantity and quality....so I suspect there will be pages filled with 2x2 inch squares of buffalo, elk, deer, more deer, prairie dogs, birds of sorts, more buffalo, pretty flowers, sun on prairie shots, and pics of Felix and I in the rear view mirror to round it out. I love vacations!